Konten Offers Most Complete & Professional
Edge Computing Layer 3 Switch
In Various Ruggedized Applications

Flexible and Secure Networking Equipment in Harsh Environment — The Series of L3 PoE Industrial Ethernet Switches
Layer 3 Switch, also called IP Switch or Switch Router, plays the critical role of data transmission and interchange the different subnets. A layer 3 switch can replace the part of work of a router and better than this. it supports full bandwidth. Network structure simplification brings cost-saving however high efficient performance to your network construction.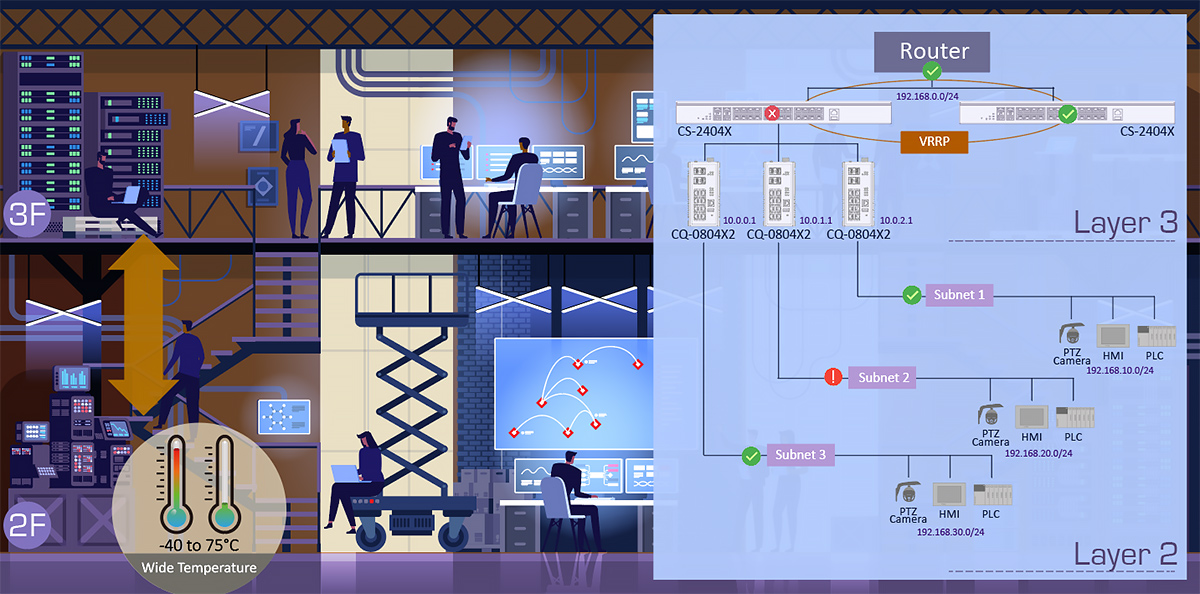 Because Layer 3 switches are to connect multi-subnets, it brings out the issue for the demand of high-level network security. For instance, in a city traffic flow topology, a layer 3 switch can manage several subnets. Each subnet refers to an individual broadcast domain. Broadcast packets within one subnet will not move to the others. The following animated infographic shows that once the tail area (one subnet) of the balloon dog (the other connected subnets) is attacked by virus (storm), others will not be affected as they are separately (the specific feature of the Layer 3 switch).
The spotlight product of this monthly EDM is industrial grade CQ-0804X2 layer 3 din-rail switch. It provides high power up to 95W PoE and 10 gigabit transmission speed for uplink. Its high density size can be installed in the harsh environment like outdoor cabinet. It can be well connected to the end edge devices such as high resolution PTZ cameras. By its layer 3 features, once one of its subnet was affect by a certain unintended problems such as broadcast storms, the effect of network outages will only remain within the subnet. The other subnet will stay well operation as usual. By this way, the whole topology will be not affected and still operating in good condition.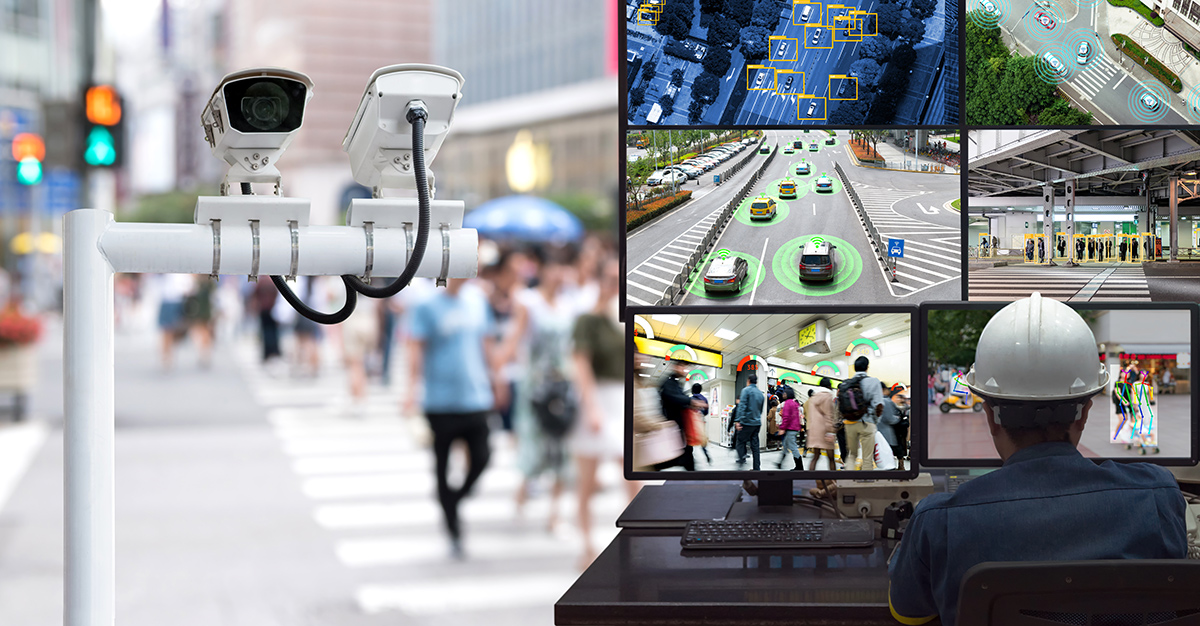 Additionally, Konten's Layer 3 industrial switches support flexible routing protocols for user networking applying in different environments. For example, RIPv1/v2 can be adopted in a small area such as the local control cabinet for its simple and easy configuring feature. OSPFv2 can be applied in a middle size or a large size network topology. VRRP is network redundancy for one-point failure of routers. It can help to simplify the complicated network structure and provide high speed transmission service. In summary, Konten's layer 3 switches are designed for different scale of networks from small to medium and installed in a control cabinet or a control center. The Routing Functions including Static Routing, RIPv1/v2 OSPFv2 and VRRPv2 can be applied for efficient management of data transmission among subnets. Also for redundancy protocol in subnet, ERPS (IEEE G.8032) supports nonstop backup ring. When it comes to a sudden network shutdown, SNMP alarm trap will be triggered to inform the administrator to look into the issue and solve the problem immediately.

Konten Networks provides a full range of advanced Layer 2 and Layer 3 industrial Ethernet switches from Gigabit to 10G, 4 ports to 28 ports, copper to fiber, RJ45 to M12, 30W PoE to 60W/95W PoE, DIN-Rail to Rack Mounting for core centers and edge sites. They're certified with IEC61850-3, IEEE1613, EN50155, EN50121-4 and EN45545-2 for critical infrastructures of different vertical markets. Konten offers you a total solution of industrial Ethernet equipment.

Konten Networks understands what you need. More applications of Layer 3 Switches such as track side and power plant will be soon introduced in the next EDM.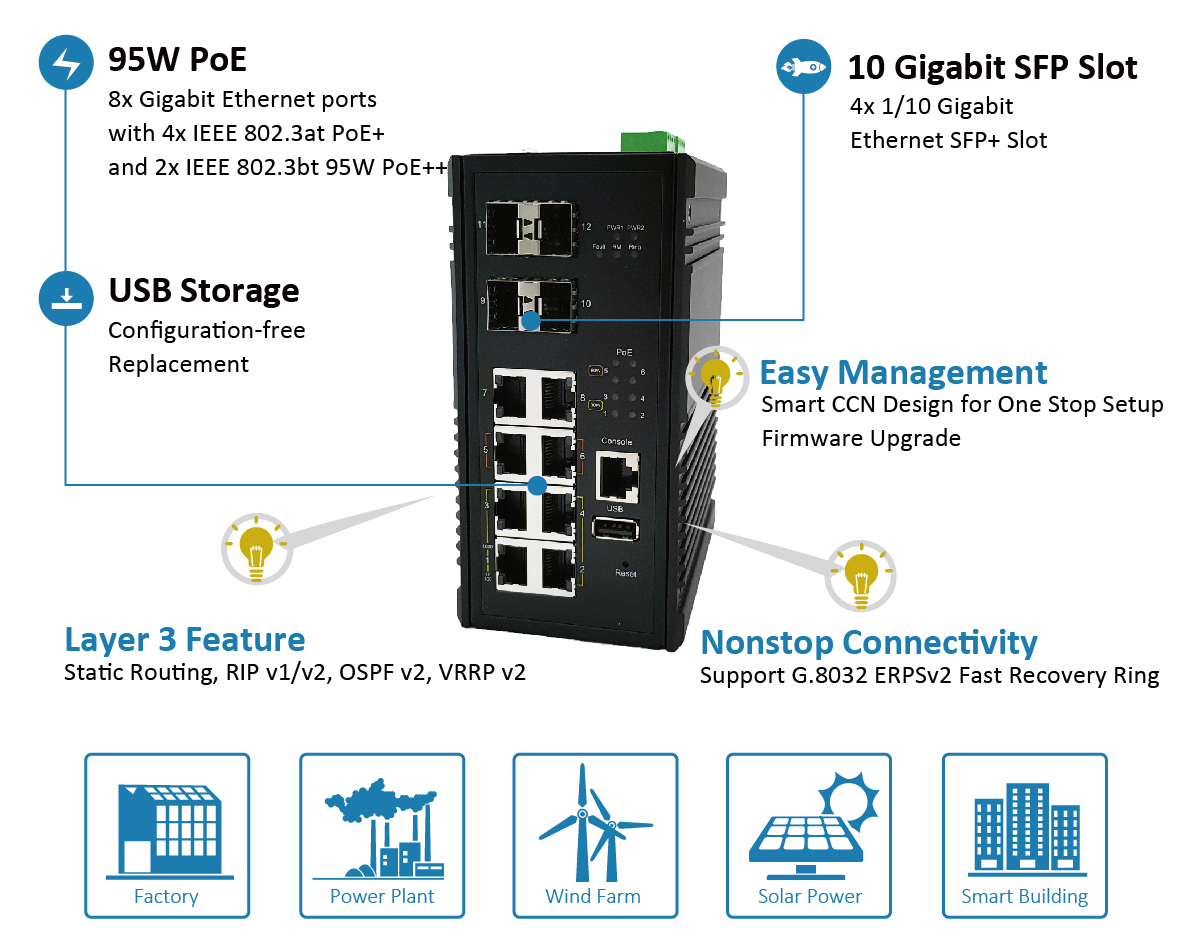 8+4 Port Industrial Managed 95W PoE++ L3 Switch with 10G Uplink

• 8x Gigabit Ethernet ports with 4x IEEE 802.3at PoE+ and 2x IEEE 802.3bt 95W PoE++
• 4x 1/10 Gigabit Ethernet SFP+ Slot
• L3 Feature
- Support Static Routing, Dynamic Routing (OSPFv2, RIPv1/v2), and VRRPv2 for Router's Redundancy
• Built for harsh environments and wide temperature range application
• RSTP, MSTP, ERPS, LACP for Network Redundancy
• QoS CoS/DSCP to increase determinism
• RSTP, MST, ERPS, LACP for Network Redundancy
• QoS CoS/DSCP to increase determinism
• Supports IGMP Snooping v1/v2/v3, up to 512 groups
• DHCP Relay Option 82 for policies IP address assignment
• SNMP v1/v2c/v3 for network management
• Supports Storm Protection
• USB storage for configuration-free replacement
• Support industrial automation protocols Ethernet/IP and Modbus TCP
• Supports PoE PD Alive Check Function for PoE Device Power Recycle

Prodcut Highlight
EN50121-4 (1G or 10G DIN Rail)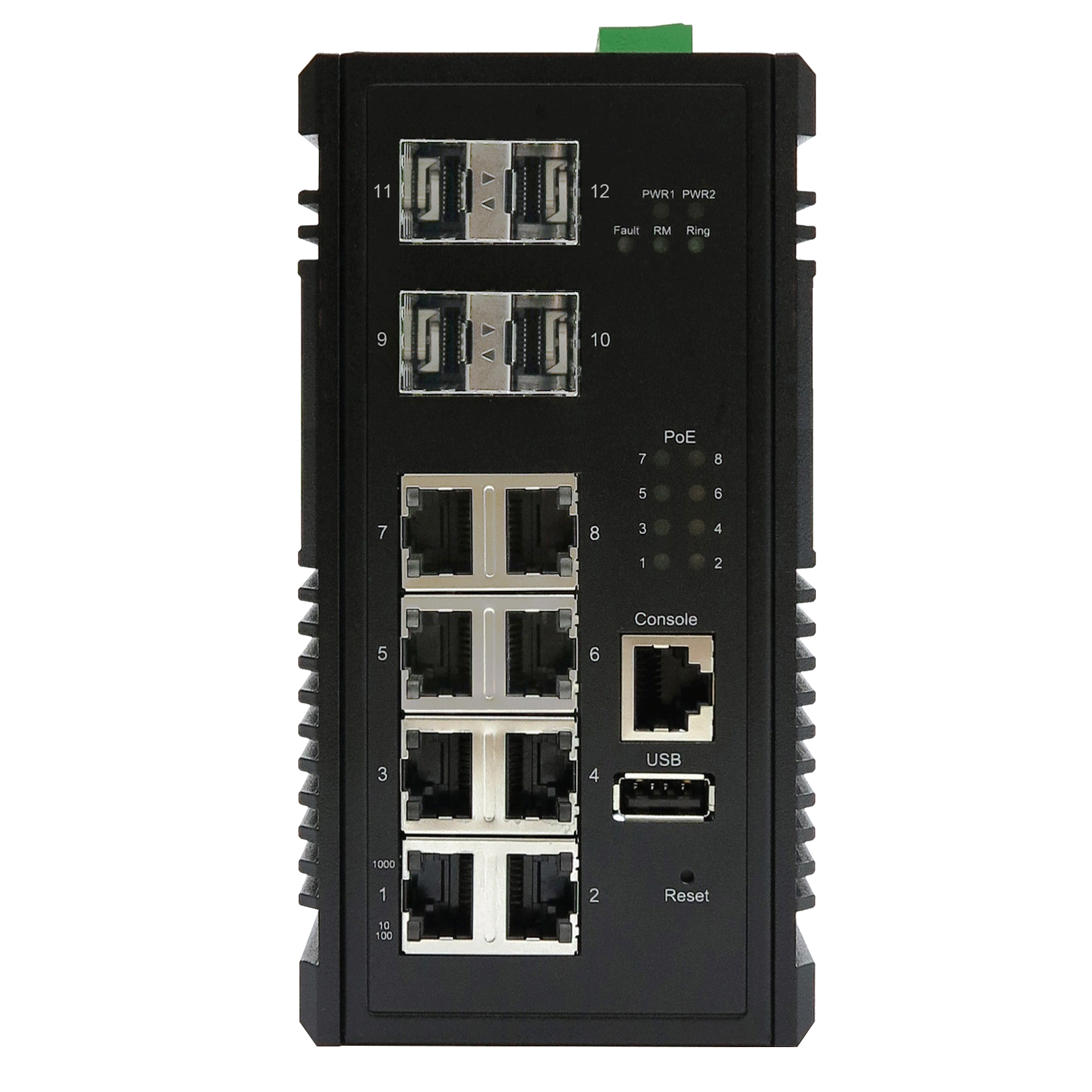 8+4 Port Industrial Managed PoE+
L3 Switch
16+8+4 Port Industrial Managed
Gigabit L3 Switch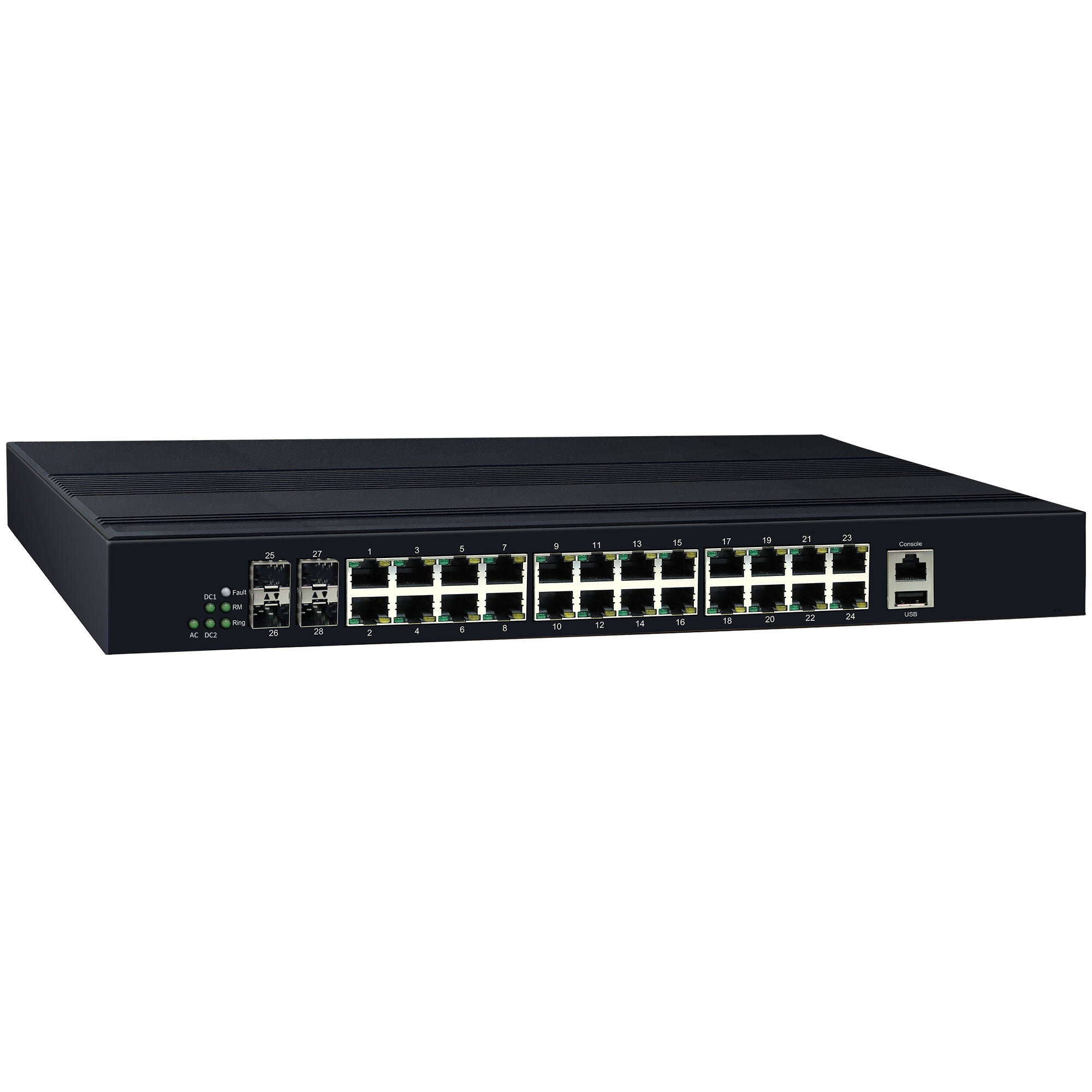 24+4 Port Industrial Managed PoE+ L3 Switch with 10G Uplink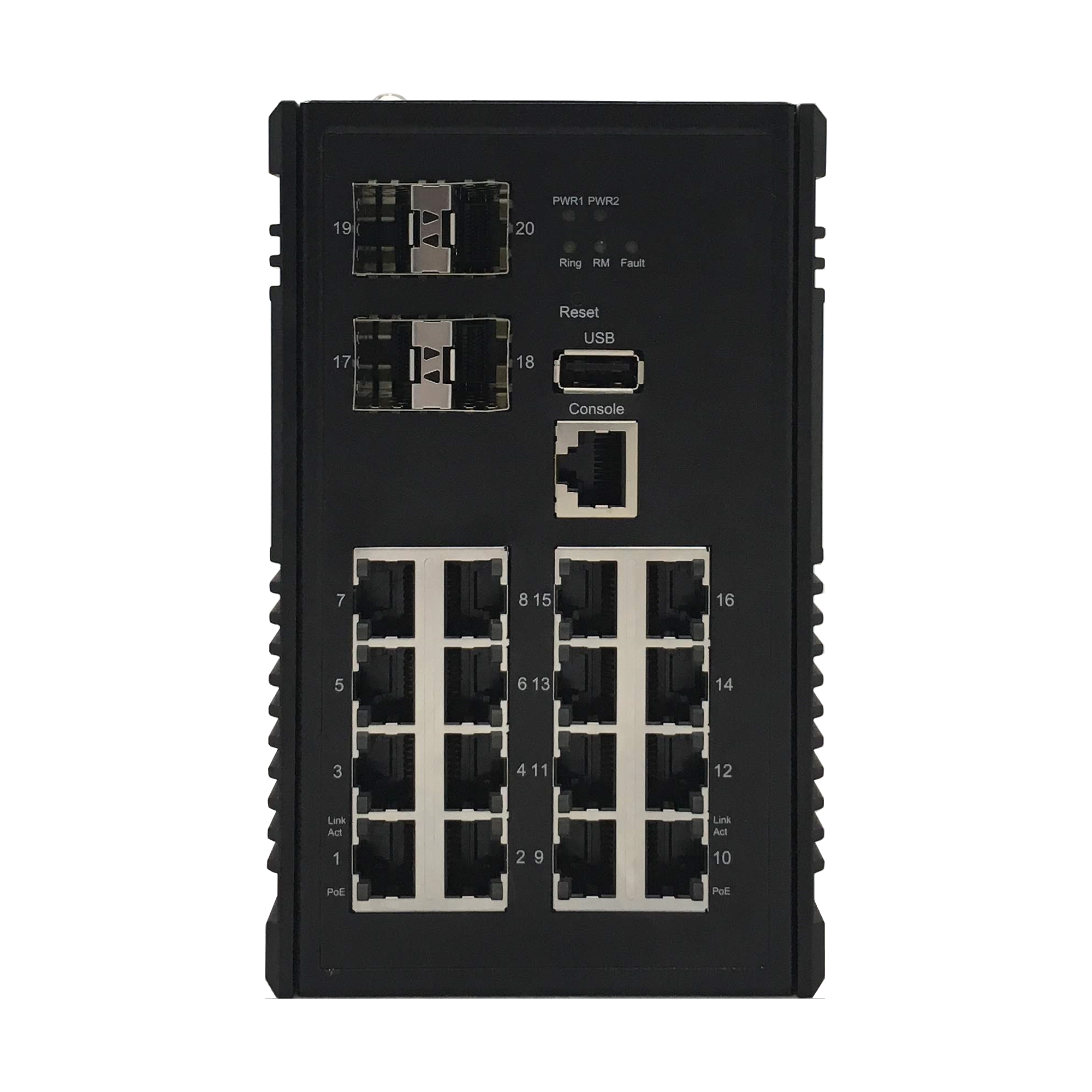 16+4 Port Industrial Managed PoE+
L3 Switch with 10G Uplink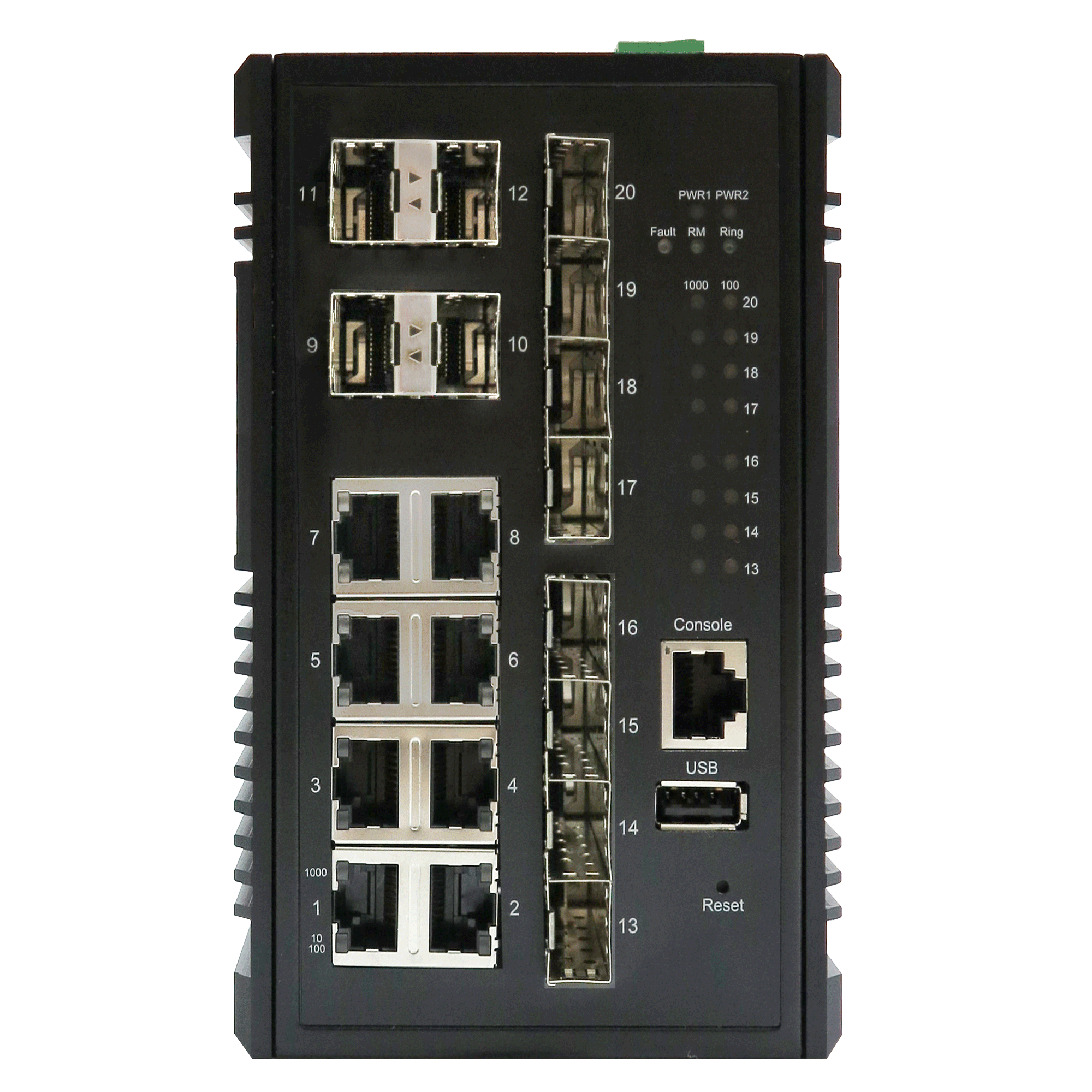 8+12 Port Industrial Managed
L3 Switch with 10G Uplink
About Konten®
Your Reliable Partner of Industrial Network Solutions

Konten® devoted to providing rich features, high quality, industrial-focused networking solutions to our worldwide customers. Our team is committed to working closely with our customers to provide premium value products and outstanding service and support. We provide extensive services including customized OEM/ODM design, manufacturing, quality assurance, prompt delivery, and after-sales services to meet and satisfy our customers' requirements and demands.
Please feel free to contact us for having more information.
We will be happy to hear from you!
Tel : + 886 - 2 - 2219 - 6686
E-mail : sales@konten-networks.com
Web : www.konten-networks.com
Add : 7F-1, No.108, Minquan Rd., Xindian Dist., New Taipei City 23141, Taiwan